App Store Optimization – Key Strategy for Apps & Games
What is ASO?
With more than 8 million apps and games in the main app stores, it would be impossible to succeed without App Store Optimization (AKA ASO or App Store SEO) – the process of optimizing a mobile app in order to maximize its visibility in the Apple App Store and Google Play Store, boost traffic to listing and improve conversion rate to generate the maximum volume of downloads. App Store Optimization is a never ending process that consists of three key steps:
Keyword research and optimization
Conversion rate optimization and A/B testing
Tracking and improving (+ localizing)
If you are wondering why you should go for ASO, mind the following advantages:
Improved app discoverability: an optimized product page will rank higher in search results and potential users will find your app more easily.
Increase in organic installs: more users will discover and download your app organically (so, completely FREE for you).
Improved Conversion Rate to Install: you get more users who are visiting your listing to download an app, and thus, taking more advantage of the traffic you get.
Lower acquisition costs: more organic installs would derive in lower eCPI (Effective Cost Per Install) in case you run paid marketing campaigns.
Stable app monetization: the more users you have the more likely they are to spend money on your app (app purchases, subscriptions or ads).
The main ASO Factors
App Store Optimization is affected by two main types of factors:
On-metadata factors -the ones that fall under the direct control of a developer and can be easily modified form Google Play Console or App Store Connect. On-metadata factors include: App Name / Title, Subtitle, Keywords Field & Promotional Text (App Store only), Short & Long Description, URL / Package (Google Play only), Icon, Screenshots, Feature Graphic (Google Play only), Video and App Size.
Off-metadata factors – the ones that cannot be controlled, but can be influenced by developers in order to improve them. Off-metadata factors include: volume & velocity of installs, volume of ratings and reviews and the average rating.
To learn more about the App Store Optimization factors and the effect they have on Search Rankings and Conversion Rate, take a look at the ASO Factors Expert Survey, based on the expertise and experience of 60+ mobile app marketing professionals.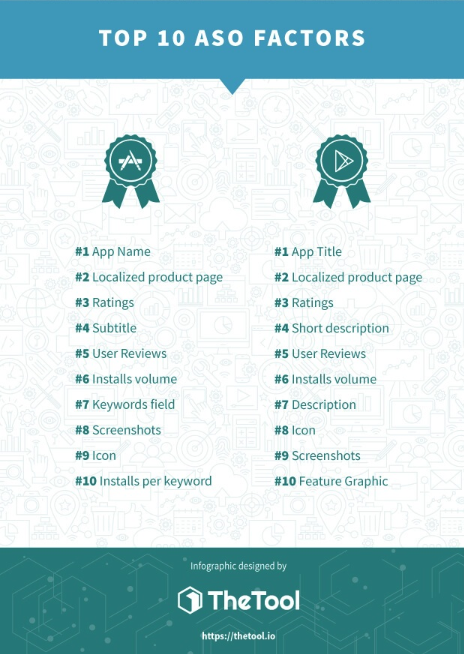 App Store Optimization Guide step by step
As we just mentioned, App Store Optimization is an ongoing process that consists of three different steps. Let's dive right in and see how to start out with your ASO strategy and rock it!
Keyword Research and Optimization
Keyword Research is the first essential step in ASO – in order to get visibility, you need to target the right keywords for your project. Start by brainstorming the initial list of keywords – think about the value that your app brings and its main functionalities. What problem does it solve for your target audience?
As the next step, carry out a market research. Who are your main competitors? What category do they belong to? What keywords are they ranking for? At this point you will need the help of an ASO tool like TheTool.
Extensive keyword research
In order to carry out a deep and optimal keyword research take into account these tips:
Brainstorm to describe your product and the tasks it performs. Do you have an app with a social value? Is it a business app? Is it a shopping one? Do you have a mobile game? What is the gameplay, levels, main characters?Try to answer these questions and you will already have a good set of keywords to work with.
Think about your audience. Think of your target users and the language they might be speaking – this will give you an idea of the keywords they would use to find your app.
Check out your competitors. It is always recommendable to identify the terms they are targeting in order to copy their strategy or to choose a completely different path.
Look for keyword suggestions. Expand your list of keywords by looking at keyword suggestions – you can do that with the autocomplete feature on the app stores or using an ASO tool. It's really important that you include mid- and long-tail keywords in your set, ranking for generic terms is not always easy, especially if the app is new on the market.
未经允许不得转载:坐馆ASO优化官方网站 | ASO推广优化技巧工具 | App推广运营 | ASM | App优化苹果商店竞价 | App Store Search Ads » The Ultimate Guide to App Store Optimization 2018 – ASO