Defining the final keyword set
When you have built a large set of keywords for your project, it's time to analyze and prioritize them, identifying the most important ones. How can you do so? There are a few things to keep in mind:
Traffic and Difficulty Estimations. Pick the keywords that will help you get high visibility in Search – choose keywords with a good balance between high traffic and medium difficulty (not too competitive). Trying to target only high-volume generic keywords can be very challenging for new apps – instead, you can get more visibility on long-term keyword combinations. It is always better to rank high for lower-volume keywords, than rank low on high-volume ones. Visibility is key!
Competitors Rankings. Keeping an eye on your competitors is always wise – monitor their keyword rankings to identify possible niches and opportunities to stand out from them.
Apple Search Ads. If you are running Apple Search Ads for your iOS app or game, you can use the ASA metrics as performance indicators to evaluate your keywords. Apple Search Ads allows you to compare Conversion Rate and Search Volume on different keywords – and decide which ones are the most relevant for your app. Remember, Apple Search Ads is available in more countries now!
It is important to work with an extensive list of keywords: at least 60-120 per country. Many times the users would rather carry out specific search than broad one. Working with relevant keyword suggestions is key: when there are suggestions, there is traffic, so select all the relevant combinations that can help you drive the users with download intent to your app.
Optimize the textual elements of the app store listing / product page
Now that you have built your set of keywords, it's time to include them to your listing (in the right places!) and see the effect.
App Store and Google Play have different algorithms and thus, different elements are responsible for search rankings. Read on to learn how to optimize the textual elements of your product page on both stores:
App Name / Title
This field is one of the strongest rankings factors in both app stores – App Name / Title is responsible for search rankings and also plays a role in the conversion rate to download.
On Google Play Store, you can use up to 50 characters in the Title to add some of your most powerful keywords alongside your brand name. Keep your brand name short and catchy – and include the keywords that identify your app's main purpose or value.

Source: Maps – Navigate & Explore on Google Play Store
On the App Store, however, space is quite limited – only 30 characters – so keep it short and concise. It's a real challenge! Come up with a memorable brand name and include some of your core keywords here.

Source: Skyscanner Flights Hotels Cars on Apple App Store
Subtitle – App Store
The subtitle has been introduced with the iOS 11 and is a short (30 characters)field that has an effect not only on search rankings, but as well on the click-through rate (CTR) and conversion rate (CR) of your app. CTR measures the rate of users who found your app in search results, to those visiting your product page, and CR measures the rate of page visitors to app downloads.
The main goal of the Subtitle is to add additional information about the product. Use this field to highlight your app's best features or functionalities and add important keywords. Don't include those you already added to your App Name – use the space wisely.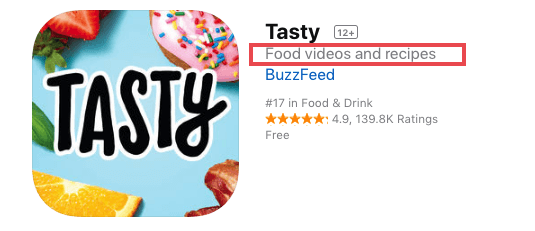 Source: Tasty on Apple App Store
Short Description – Google Play Store
Short Description is an 80-character field, used to emphasize the value of your app and deliver a clear & catchy message – and you should definitely include your main keywords here! On Google Play Store, the short description has an effect on both search rankings and conversion rate to download, so it is important to keep the balance between your search optimization and CR optimization efforts.

Source: Messenger – Text and Video Chat for Free on Google Play Store
未经允许不得转载:坐馆ASO优化官方网站 | ASO推广优化技巧工具 | App推广运营 | ASM | App优化苹果商店竞价 | App Store Search Ads » Defining the final keyword set – ASO